Snapshot
Denomination: Assembly of God

Weekly Attendance: 750
Location: Cheshire, CT
The Role: Worship Pastor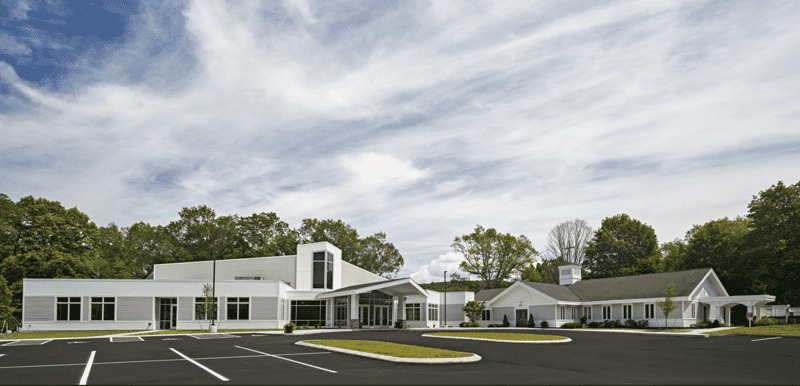 Meet Cornerstone Church:
Cornerstone Church was founded in September 1982, by Pastor Howard Renker, to reach people with the life-changing message of Jesus Christ. After meeting in various locations, the church moved to its current location and utilized Sal's House cottage as a meeting place. As the church grew, the first church building was constructed in 1996.
In 2002, Pastor Eric Bucci became the lead pastor, serving with his wife Sandra, and about 75 people in attendance. At the time, Pastor Eric and Sandra had no children and were newly married. They now have three children: Luke, Hannah, and Matthew. In 2014, Cornerstone moved into its new 15,000 square-foot worship facility. The former building was renovated into a state of the art children's ministry center which opened in early 2016.
Since then, the church has grown to approximately 1000 people, who call Cornerstone their home, and continues to grow to this day. Pastor's God-given desire is to be an authentic servant leader who reaches people with the life-giving message of Jesus so they will Know God, Find Freedom, Discover Purpose and Make a Difference.
"We believe freedom comes in a life that is surrendered to God daily. We are simply not designed to live without God at the center of our lives, and we cause damage to ourselves and others when we live for ourselves. We believe that the Word of God (the Bible), the transforming power of the Holy Spirit, and the fellowship of other believers is what changes us to become more like Christ. We also focus on reaching out to the community by building relationships through small groups and outreach events. Cornerstone's purpose is to help people: Know God, Find Freedom, Discover Purpose, and Make a Difference. We invite you to see for yourself how exciting church can be when the focus is simple and the people are free to go after God with passion."
About the Worship Pastor:
Cornerstone Church is seeking a Worship Pastor to join their team. The ideal candidate will be a visionary who is creative in leading people to God. This leader must communicate a direction in a way that inspires those around him/her to join in the pursuit of that vision. This position requires the individual to serve not solely as a musical or performing arts director but also as a shepherd to the staff and volunteers who serve in this ministry.
The Worship Pastor's Responsibilities Include:
Worship Leader of all Cornerstone services

Lead and manage the Cornerstone worship and production

Oversee the coordination of Cornerstone Worship Team Nights

Oversee the structures and systems of Cornerstone Worship

Oversee the Audio Department and Audio employees at Cornerstone

Oversee the training of youth worship

Implement and run the training of potential worship and tech members

Plan and implement Cornerstone Worship projects and department goals

Fulfill the requirements and faithfully perform the duties of Pastor at Cornerstone Church to the best their ability
What You Bring:
The following describes many of the characteristics of the ideal candidate for the Worship Pastor:
Education & Experience
Minimum of 2 to 3 years of worship leading in a local church

Undergraduate degree preferred

Seminary degree is a plus
Knowledge, Skills, and Abilities
Ability to handle multiple projects effectively

Excellent verbal and interpersonal skills

Ability to learn and use church software

Ability to learn and use Planning Center online software v Proficiency in voice and piano or guitar

Ability to create, coordinate and lead a worship experience with a team

Know how to create and manage Ableton software for tracks
Personal Characteristics & Qualifications
Vibrant and growing relationship with Jesus

Driven

Collaborative and flexible

Demonstrates spiritual maturity

Devoted to prayer

Able to follow core staff principles

Gifted to lead the congregation into a heart of worship
What it's Like to Live in Cheshire, CT :
Ranked as one of the best places to live in Connecticut, this quaint New England town prides themselves as being a crossroads of culture while be just 20 minutes outside of the state capital and short 2 hour drive to both Boston and New York City. Several farms are spread out throughout the 32 square miles of land offering residents and guests seasonal activities to enjoy.
The town offers dozens of fine dining and casual restaurants, small shops, parks and playgrounds The Barker Character Comic & Cartoon Museum, which opened in 1997, houses a collection of 80,000 antique toys and collectibles for residents and tourists to enjoy.
Cheshire Public Schools is a top rated, public school district and residents take pride in their children's schooling and activities. Cheshire has been ranked to be within the top 20 safest cities to live in the nation and is a wonderful place to raise a family.
Think you're a great fit for this role? Become a candidate below.