Snapshot
Denomination: Non-Denominational
Weekly Attendance: 450
Location: Chicago, IL
The Role: Lincoln Park Associate and Teaching Pastor
Meet Park Community Church:
Park Community Church is a gospel-centered church that gathers every week to worship Jesus in many neighborhoods throughout the city of Chicago. We're a diverse group of people eager to proclaim the gospel of Jesus Christ to all people until there is no place left.
Park Community Church began over 35 years ago in the community of Lincoln Park with a mission to engage people in the city of Chicago with the life changing truth of Jesus Christ. The first 20 years of Park's existence were incredibly formative as this church began to sink its roots deep into the heart of the city. As the Lord continued to bless, Park continued to expand their reach. In 2008 Park opened their second location, thus beginning a movement of people in the city of Chicago which has now grown to 13 locations reaching over 2000 in the urban and thriving communities of this influential city. Their vision is to be a church that proclaims the gospel of Jesus Christ to all people until there's no place left.
One of the most significant distinctives of Park Lincoln Park is its commitment to Gospel preaching, being a Christ centered, Spirit led church in the heart of one of the great urban centers of our country. We are IN THE CITY, FOR THE CITY. While many individuals and families throughout Chicago eventually make a home in the suburbs of Chicagoland and beyond, the people of Park believe God has specifically called them to the urban centers of Chicago proper. It is their desire to see the city renewed as people who call Park home live life on mission. Their mission is to make disciples, equip the saints, send them out, and spread far and wide. They believe community transformation and renewal begins on a single street in a single neighborhood and ripples out from there until the city is transformed.
This Gospel-centered church is committed to leading people towards a life focused on the finished work of Jesus, the hope of the Gospel as declared in God's Word, and the way this truth transforms us into becoming fully devoted disciples of Jesus. From their robust ministry to moms in the community to their global impact around the world, Park is riding the wave of momentum as they continue to expand their reach and plant new locations as God opens the doors.
About the Lincoln Park Associate and Teaching Pastor :
Primary Purpose: A gifted communicator and leader with sound Biblical knowledge with a heart to partner with the Lincoln Park team to serve the community. The Associate andTeaching Pastor has a passion for the Word, a heart for lost people, and a passion for discipleship and prayer. The Associate and Teaching Pastor is passionate about connecting with the congregation to promote practical, relevant, meaningful application of teaching into the daily living of urbanites of all ages. In addition, strong giftedness in teaching, preaching, shepherding, leadership, outreach and team building are needed for the development, management and expansion of the teaching ministry at Park.
In addition to these teaching responsibilities, the new Teaching Pastor will serve on the Lincoln Park team under the Lincoln Park Lead Pastor to provide leadership and advance the growth and development of Park Lincoln Park. He will be an integral leader on the team and help to push the mission and vision forward in tandem with the NN Lead Pastor. And we desire this person to move into the role of elder with six months to a year of his start date.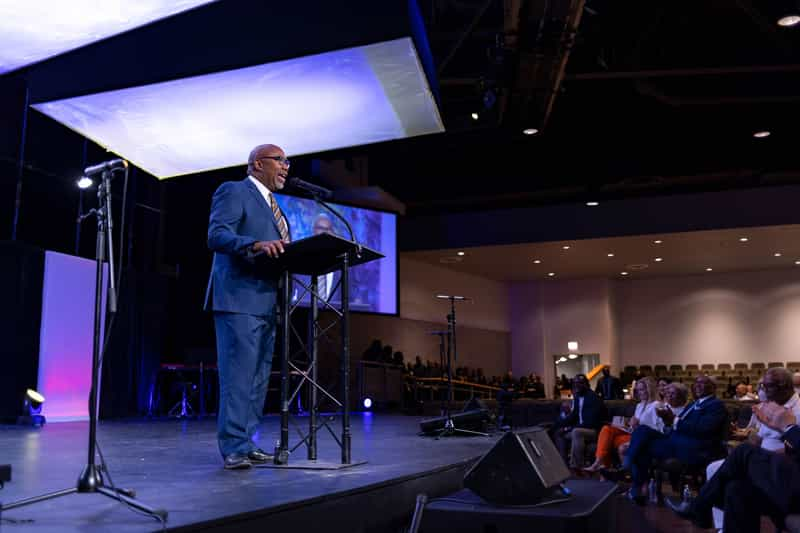 The Lincoln Park Associate and Teaching Pastor Responsibilities Include:
Responsibilities of the effective Associate and Teaching Pastor are:
Key Preaching/Teaching Responsibilities
Present the weekend message 32-35 weeks per year at LP.

Work with the teaching team to prepare and present relevant Biblical messages.

Support, collaborate with and be involved in the planning and design of weekend worship gatherings.

Develop teaching outlines 1+ months out, answering the big idea, human condition and gospel focus questions.

Assist in selection and development of individuals who display the gift of teaching.

Oversee teaching schedule in conjunction with the Location Pastors at NN and LP and Lead Team at Park.
Additional Key Responsibilities
Engaged in the pastoral leadership of Park Lincoln Park.

Working closely with the Teaching Pastor at Near North, you will develop, shape, and influence the overarching teaching ministry in the Center region at Park.

Develop and execute a robust discipleship track including teaching and other engagement pathways for our people to grow as disciples of Jesus.

Equipping and leading in evangelism practice and development.

Engage in the leadership and development of the pastoral residency at Park Lincoln Park.

Investing in and coaching emerging leaders and teachers at Park Lincoln Park.

Oversight of key staff and leaders on the Lincoln Park ministry team.

The LP Elders are open to additional focus areas of responsibility in line with the needs of Park Lincoln Park and the gifting of the individual who is hired.
What You Bring:
The following describes many of the characteristics of the ideal candidate for The Associate and Teaching Pastor:
Education
Undergraduate degree required; Masters degree strongly preferred.
Required Experience & Skills
Proven ability to communicate clearly and cohesively in a multi-functional organization.

Strong teamwork skills; ability to work cooperatively and jointly with various staff. ministries, organizations and volunteers.

Proven ability to lead and manage a team.

Strong problem-solving skills and detail-oriented.

Strong organizational and multitasking skills.

Servant leader with a collaborative spirit that values "team" over individual success.

Experience with and a calling to leading in a multicultural, multiethnic urban setting

Proven ability to effectively manage time and prioritize workload.

Proven ability to lead and work with all levels of staff and volunteers.

Effective interpersonal, verbal and written communication skills.

Ability to make decisions in a fast-paced environment.

Strong team player who is enthusiastic and enjoys people.
Preferred Experience and Skills
5 or more years of regular Preaching/Teaching and Pastoral leadership experience.
Personal Requirements
Live a life consistent with qualities laid out in 1 Timothy 3 for an elder.

Be in a small group and have an accountability partner.

Be intentionally fostering a deeper relationship with Jesus Christ through your time in the Bible, prayer, and Christian community.

Become a Park Member and to abide by the By-laws indicated in our membership book.

Reflect Christ in your words and actions in your personal life and ministry. You will be looked up to as you model the Christian faith, and the way you live your life should reflect the Gospel. (Living lives of holiness, purity, and free from addictions)

Live in the city limits of Chicago.
What it's Like to Live in Chicago, IL:
Chicago, Illinois, is a beautiful place that encompasses many facets of diversity and possibilities in the city. Located in the heart of Chicago, you'll find the Lincoln Park neighborhood. The high quality of life, community, high-rise housing, and entertainment draw many residents to this area.
The Lincoln Park neighborhood is the most populated neighborhood in Chicago with just over 105,000 people. It's only minutes within close proximity to North Avenue Beach and fully equipped with several diverse dining and retail selections. Additionally, the Lincoln Park region is one of four areas that make up downtown Chicago. Both Near North and Lincoln Park are approximately three miles apart from each other with much to offer.
For opportunities to enjoy nature and a beautiful scenic view, there are places to explore like the North Pond Nature Sanctuary, the Diversey Harbor, Lily Pond, Lincoln Park Zoo, and the Lincoln Park Conservatory. With one of the top elementary schools and top high schools of the city located in the area, the Lincoln Park neighborhood has excellent and competitive public schools. With that being said, there's no shortage of things to do and places to explore; this area is a great place to call home, though The Associate and Teaching Pastor is not required to live specifically in Lincoln Park.
Think you're a great fit for this role? Become a candidate below.