Faith Church Kingstowne Hires Senior Pastor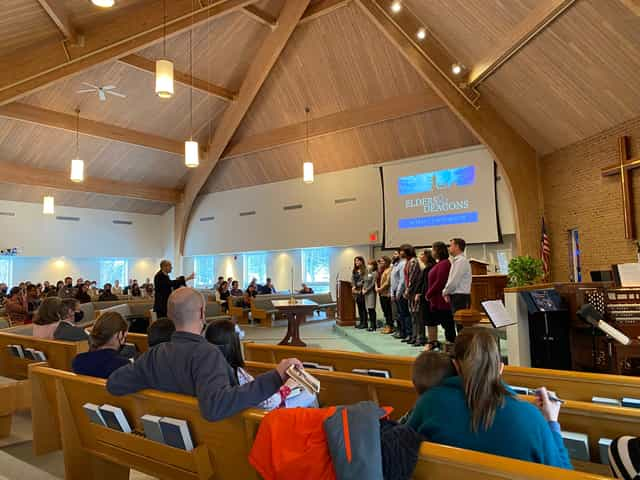 What does Ring the Bell mean? At Vanderbloemen, we want to celebrate as a team every time we have the honor of helping a church, school, or organization find their perfect candidate to fill a gap in their team and further their ministry. To do that, we have a bell on the wall in our Vanderbloemen office, within hearing distance of the entire team. Every time a candidate is placed, the team members who worked on that search ring the bell so that our team can celebrate!
Ring the bell! Faith Chuch Kingstowne found their new Senior Pastor.
Faith Church Kingstowne was founded in 1987 in Springfield, VA. Faith Church Kingstowne is a vibrant, authentic, Christ-centered fellowship of believers who embody the denomination's motto of unity in the essentials, liberty in the non-essentials, and charity in all things. Faith Church Kingstowne wanted a Senior Pastor that cared about extending God's grace to people from all backgrounds and leads by example. They hoped for someone relational, authentic, transparent, and humble. Faith Church Kingstowne is glad to welcome John Wilcox as their new Senior Pastor and excited to see how he helps continue the mission of bringing others to Christ.
John Wilcox has served in a variety of roles from Theatre Church Consultant to Senior Pastor. John is passionate about his pursuit of pointing people to Christ. We believe that his leadership and ministry experience over the last 8 years will be a blessing to the kingdom growth at Faith Church.
"We knew that John would be a great fit for the congregation at Faith Church Kingstowne. Although it's never easy following a 25-year pastor who is highly regarded, John is an amazing young leader, who will be a fantastic pastor for Faith Church. " - Tim Gocha, VP of Consulting
John, his wife Amanda, and their four kids are excited to pour into the Faith Church community through their service in the church. The Wilcox family will be a wonderful addition to the community as they move from North Carolina to Virginia. John's experience and church leadership will help lead Kingstowne in ways that are beneficial to the direction, vision, and decisions of the church.
When churches like Faith Church Kingstowne need help to find the right person to fulfill their mission, that's when we step in and help find the perfect match. If you need help with a role that will further your mission, get started by contacting us today.