"Insight from the Vanderbloemen team helped us better understanding what a healthy staff should look like"
- Kyle THompson Senior Pastor
Sharon United Methodist Church is a well-established United Methodist congregation that serves the SouthPark region in Charlotte, North Carolina. Its sole mission is to be the spiritual crossroads of the community, leading people into a life rich in Christ through real relationships, deep discipleship, and selfless service.
What began as a small suburban church in serene surroundings will soon celebrate its 50th year of sustained missional purpose, presence, and prominence in SouthPark. The church's DNA is largely responsible for its sustainability, with a friend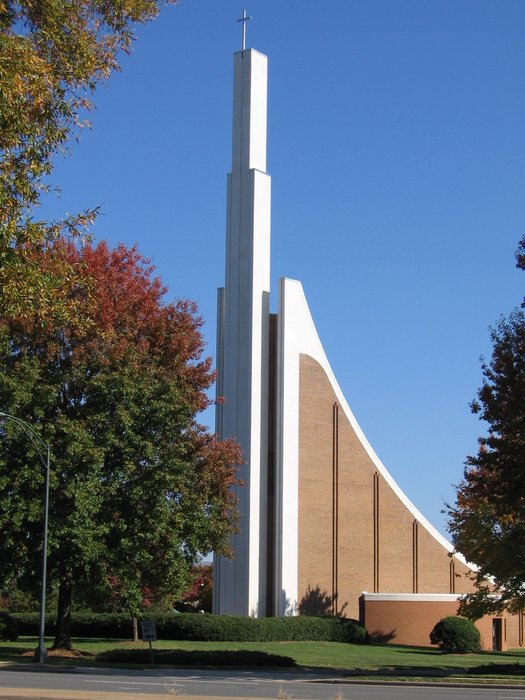 ly and welcoming environment for both its long-standing members and first-time guests.
Sharon UMC stands at a pivotal moment in its rich history. With job opportunities and ideal living costs, the community around Sharon UMC has grown with young professionals and young families over the last decade. To accommodate the expanding community and changing demographics, the leadership at Sharon UMC developed a plan entitled "Dream Big SouthPark," including plans for a new campus that would combine the church's mission with the community's vision.
Sharon UMC will partner with a land developer to raze the current facility in order to build a mixed-use development, with the church serving as the anchor. The new campus will be a village where people live life together, as sacred and secular intersect. The campus will include church, retail, dining, fitness, residential, hospitality, office, and medical facilities. The church's facilities will not only provide a new place for the church to call home but also will attract families in the community with a new fitness center, a state of the art performing arts center, and other amenities.
With this new vision in place, the church's leadership realized that they were missing one crucial part of their plan – someone to shape the programming for families. They knew that in order to maximize their new facility and outreach potential, they needed to hire a high-capacity Minster of Families.
Sharon UMC knew they were stepping out of their comfort zone to grow and reach new people for Christ. The church leadership decided to bring in objective eyes – a search firm who could understand their culture a
nd vision without bias, assess what they needed, and them help them find the right person for the Minister of Families.
Senior Pastor Kyle Thompson said that they talked to three different search firms, but ultimately they decided on Vanderbloemen Search Group because of the scope of its network, offering the church the best possible chance of finding the right person. The church leadership sat down with their Executive Search Consultant Tim Stevens and discussed their vision, mission, culture, and the type of person they felt God was calling to lead their Family Ministry.
Kyle said that from the beginning, Vanderbloemen "understood us and knew what we needed."
This hire was about finding someone who wasn't merely capable of doing the job excellently, but also who could thrive in the culture of the church and the surrounding community.
As Tim Stevens and the Candidate Research team sought highly qualified candidates for Sharon UMC, they came across Kevin Ache. Hailing from Arizona, Kevin Ache had begun to feel the call to pursue this position. After interviewing with Tim, Tim recommended him to the Sharon UMC leadership, who promptly interviewed him. It became clear to all that God was calling Kevin and his wife to step out and join Sharon UMC in their journey. With experience serving in several Family Ministry positions at a multisite church in Arizona, Kevin was eager to take on the responsibility of planning and implementing new family programming. With Kevin on board, Sharon UMC is poised for even more future growth as they reach more lives for Christ in the Charlotte, NC area.